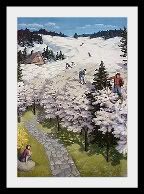 ¤ "Spring Skiing" is an illustration by Rob Gonsalves whose artwork is featured in a number of places on the net though the best actual gallery of his work I have found is at Discovery Galleries. Another location with some good images of his illustrations is on "Seamless pictures | haha.nu -- a lifestyle blogzine".

Rob Gonsalves does interesting artwork in his own particular style. He uses an awareness of architecture that started at a young age taking direction into perspective techniques leading to his first paintings and renderings of imagined buildings. This has directed him into works which are surreal in quality where an image done of one scene blends seamlessly into another. It is reminiscent of Escher to me.
He uses "carefully planned illusionist devices."* to create these images in a seamless fashion that I find are very unique. I do like the term "Magic Realism"* to describe his work as referred to in the Discovery Galleries' Biography of the artist*. Outside of the seamless illusion of the blending of one image into the next, his style is crisp and reminds me of the best illustration work I remember from school books and Reader's Digest. I am not sure what you would call that style, but it works well here and can speak volumes. I think it is the clarity of the style that adds even more to the illusion. It is easier to hide an illusion in mist and fog than in crisp good lighting.
"Spring Skiing"blends that pure white snow of the mountains with that pure white "snow" shower of petals from the flowering fruit trees in Spring. While in places you may have drifts of pink, here you would have the white drifts from these fruit trees. The alpine purity of snow blending seamlessly into the floral purity of the Spring fruit trees.

~ Darrell
For those extreme skiers amongst us, Rob Gonsalves piece entitled "Spring Skiing" is a sports lover's delight. He has managed to turn an extraordinary environment into a seamless slope of powder which only makes you want to be there in person.
My selection on which piece of his artwork to review was made extremely difficult -- not because his gallery does not have much to offer -- but because each piece has elements that are worthy of artistic critique. After much pondering we settled for "Spring Skiing". More works of his will be reviewed in future here at Blended Realms.

~ Mags
__________