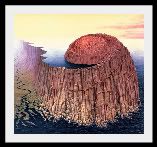 ¤ "Amonit" by Jacek Yerka can be found on his own site Jacek Yerka painter of the fantasy worlds. You can find galleries of his work in a few places on his site. I suggest "How do I make my paintings..." and "My Worlds".
¤ I experienced a strange feeling when I looked at this artist's piece. My heart went giddy with excitement as it brought me to my childhood. This work has so many tremendous qualities its hard to know where to begin. The houses that are carved into the rock appear both fragile and robust at the same time. The spiral at the top of the image looks like a shell you would pick up off the beach and a pastry treat good enough to eat.
I do find it extraordinary how the water is able to just stay delicately placed on top of the cliff and refrain from dribbling down the sides. Every time you look at this image you will find something new to marvel over.

~ Mags
¤ I like the impossibility of the sea level being both at the top of the cliff and the bottom at the same time. I look at the buildings which meld into the cliff and wonder whether they are intended to be cliff dwellings or just to point out how stone buildings are so like cliffs. That reminds me somewhat of some of Rob Gonsalves works where cliffs meld into cityscapes and cityscapes into cliffs.
Of course my mind loves to move into paintings to feel what they are like and to explore and I wonder what travelling up that river would lead to. Would there be waterfalls from the top of the cliff in places? Is the sea salt or fresh water? Are there tides?I wonder if there might be a safe harbour in the shell? Do people dwell there still? Was the city carved into rock or grown like the shell the feature looks like?
Jacek Yerka has many fascinating pieces on his site and can be found in other places on the Web if you do a search for his name. His is a name I would like to keep track of.

~ Darrell