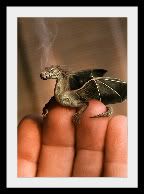 Jan Oliehoek (oilcorner) describes himself as a Photo Manipulator and you can find his work on both deviantArt and Worth1000.com.

It is such a privilege for us to feature such a well versed photo manipulation artist on our blog. When I first stumbled across this image I thought the creature on my computer screen was real. I sat there for an hour just completely awestruck at this artist's ability to breath life into an image that began its existence as collection of photos. A background as a writer does have a tendency to let your mind create alternative worlds out of thin air. From this image I was able to conceptualize a whole new historical time line and a possible book plot. So if this image can effect me so powerfully, it is my hope that your soul will start to sing as well. I don't often say this about many of the artists that we feature, but I absolutely cannot wait for this artists next spark of creativity as I think he is a creative genious.
Thanks again for allowing us to review your work. I hope we have done it justice.
~ Mags
I was very impressed with this image when Mags introduced it to me. I am a photo manipulator myself and can appreciate the technique and talent that went into this piece. The artist, oilcorner, did a fine job for that contest on Worth1000.com and the full sized image doesn't lose anything at all. You would expect to be able to buy these cute little smokers at a really good pet store.
oilcorner mentions in his deviantArt page on the image that the image actually has been stolen by someone pretending that they had created it -- however oilcorner can provide the source pictures that he used to create this "fake". "Source pictures" are often used to prove an image was a fake in the case of celebrity fakes and similar things -- however they can also be used as veracity that someone created a given fake photo.
One of the important steps in creating a good manipulated image is having good source material and I can see that oilcorner has a good eye for that. I also see he has a very good sense of scale. There is a lot of work that went into this besides cutting and pasting and a bit of colour, hue, saturation, brightness, and contrast matching. There are bits that had to be very much modified -- which takes artful painting using the tools provided in Photo Shop and similar programs.
The only thing perhaps that I might add... might be a blister, burn, or singe mark on the fingers. But perhaps that would be "gilding the lily"? I think it is virtually perfect as is.

~ Darrell