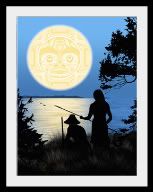 ¤ This is Andy Everson's "Watchmen". His online gallery can be found on his site "Artwork by Andy Everson". We decided to do a second Andy Everson print right away because they tied together well. His piece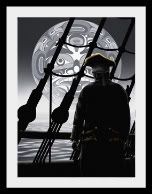 "Farewell" (image to right) also features a figure looking across the water at the Full Moon. You can find our other review on our "Andy Everson - Farewell" page. Additionally we are including an additional image of one of his Full Moon pieces called "Full Moon".
¤ "Watchmen" captures a bright moonlit night and shows the village watchmen watching for attackers who might come to prey on their village while the villagers lay sleeping, sure in the security of the watchmen's watchful eyes. Everson's people -- the K'omoks -- lived in a coveted location -- the "Land of Plenty" -- which was coveted by two other major groups that might send raiding parties in the night. The watchmen would upon seeing the telltale sign of enemy war canoes, send runners to the village so the people could leave their long houses and head to the defensive palisade on the overlooking hill. You can read more on his page "Watchmen".
This image captures a modern stylistic image of the watchmen with the traditional styled K'omoks full moon. I think that there are a number of ways that this stylized full moon might be done, though I imagine there are some base rules to it. I do like the composition. I think it compliments nicely with his other print "Farewell" and would love to have the two of them hanging from my wall.

~ Darrell
¤ The "Watchmen" by Andy Everson
The seasoned warriors are crouched like tigers, ready to strike for war. The gold coloured moon in the "Watchmen" makes the composition more visually complex for those of us who don't have perfect eyesight. Sometimes artwork can be difficult for the visually impaired.

~ Mags