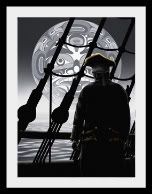 ¤ Andy Everson has gone to his roots to create very interesting artwork like "Farewell" which he highlights on his website "Artwork by Andy Everson".

¤ The most striking part of Andey Everson's piece entitled "Farewell" is the indigenous style engraved on the Moon. It has very similar characteristics as some other cultures I have learnt about. In saying that however, the materials used to both draw or carve the image could be vastly different. I am facinated by the way this artist has caused the Moon to fade ever so slightly into the background of the painting.
From first glance I wasn't going to comment on the rest of the painting, but after having a closer look I have revised my decision. On first assessment I thought it was rather dull and plain, but after close inspection I find the hat and wig to be quite exquisite, because it adds a bit of colour to what otherwise might be seen as a two toned painting.

~ Mags
¤ The artist gives some reference to this piece on his page on "Farewell". The figure is that of Captain George Vancouver who explored the West Coast of North America. He was  looking for a western entrance to a northwest passage for British Imperial trade between Asia and Europe. He didn't find the Northwest Passage, but did explore a large part of the coast of what is now known as "The Pacific Northwest". He left his mark in ink, naming many features and places after members of his crew, which replaced the names already given them by the native population.
The image shows the Captain on his last voyage leaving the area and realizing he would likely never see these lands again. It tries to capture the sense of loss that might accompany this sort of moment and shows the full moon in a traditional Kwakwaka'wakw style.
I find the muted tones of the image to make a powerful emotional statement -- melding the formal British Naval uniform with the formal Native styled moon -- all set on a dead calm sea. Remember to click on the image on Andy Everson's site to get the larger view so that you can truly appreciate the image.

~ Darrell