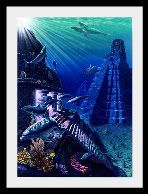 ¤ Andrew Annenberg's "Portal of Hunab Ku" is shown on his site: Annenberg Masterworks visionary fine art & posters. It is part of his "Lost Words Suite".

¤ "Portal of Hunab Ku" is an interesting painting in Andrew Annenberg's series of lost worlds. This one shows a sunken Aztec or Mayan temple complex now visited only by sealife like sea turtles, dolphins and whales. There is a peacefulness that the water brings along with the streamlined grace of the sea life.
I like the crisp style of Annenberg's work -- an illustrative style. It brings the right touch where you want to highlight the detail of the archaeological structures in the piece. He uses shades of violet to draw the eye to the entrance of the foreground pyramid. The emitted light might make you wonder just what lies within.
Dolphins and Whales are creatures of intelligence so it is fitting that they are explorers in this painting.

This is another image where you can look and find new details on further inspection -- some that might be obvious once you find them, might not have been noticed at first.
~ Darrell
¤ When one looks at "Portal of Hunab Ku" one automatically starts to look for similarities between the human race and the underwater world. The only similarity I could come up with is that these historical structures of the deep are the dolphins equivalent to children's building blocks. The shape and size of structure remains the same and one wonders whether they are content to use these cement blocks of the deep as their dwelling place or whether they would much rather be exploring the larger landscape of the ocean. One can only speculate as mankind have not been able to fully converse with these playful creatures of the deep. I look forward to the day when we can converse as one because they have a lot to teach us about living in harmony.

~ Mags