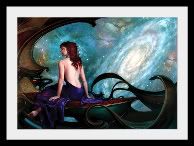 ¤ "Traveler"¹ is an illustration done by Donato Giancola in 2005 and included on his site, "Donato Arts" It is 20" x 30" and in Oil on Paper on Panel and part of a private collection.

¤ Within the "Traveler" each segment lends itself to the other so you can't look at one portion in isolation to the rest. If you did so it would loose its collective meaning.
When I first became enchanted with this piece I mistakenly thought she was staring out into the limitless realms of space, but on further inspection I find myself let down by the potential of this piece. If she was staring into space we would wonder, does she want to leave this world behind in search of a lost love or uncharted territory. But as she is not glancing into space, one might assume that she is not all there.
Is she just allowing herself to be a possession 'til the artist is ready to discard her? At first inspection I found her gown quite exquisite and low cut but now I find it quite distasteful and it makes her look vulnerable. What kind of message is the artist trying to portray in this piece? Is he trying to convince us that there is only one perception of beauty and one way of looking at things. Over all I would not be rushing back to look at this artist's work again as it does not make my heart sing.

~ Mags
¤ This is a crisp piece of science fiction artwork which I might call science fiction fantasy work. I'm not using any sort of technical term, but referring to the combination of the beautiful painting of the spiral galaxy and the glowing nebula in the background with the organic shapes of the foreground. I am not sure whether the title "Traveler" refers to the person being a traveler or if, perhaps, it refers to the Science Fiction Role Playing Game "Traveler". I have no real reason to suspect the later, but it is a suspicion.
I wonder if the composition is balanced for a title or text to be placed over the galaxy on that section of the image because while the galaxy is nicely framed, so too would be any text or title placed there. If a book cover, it would place the woman on the back cover however, and likely be covered by text. The figure seems to be formally posed rather than caught in thought. Perhaps I get this impression because she is facing away from the view and not toward the viewer or toward anything in the composition. She also has her eyes closed and so doesn't seem to be looking at something off the set. She seems to merely be there to be seen and somewhat pleased at that.
I like the way the colours work in the space art in it and the contrast of that with the "interior" and with the reflection of the lighting playing off the parts of the foreground-interior.
Donato does do interesting artwork and I am sure that you will find at least some of his illustrations familiar if you read fantasy, science fiction, graphic novels, or play role playing games or collectible cards games. His art graces many covers and cards and illustrates many books. His work and bio speak for themself.

~ Darrell
__________
¹ The American spelling "Traveler" is the spelling used on the website as opposed to "Traveller".